Welcome to Short Story Club
It's like a book club, but for short stories! RSVP below, read a short story, join a live discussion with the author on Zoom.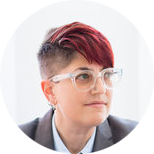 Live Q&A with Annalee Newitz on "When Robot and Crow Saved East St. Louis"
April 28 at 5:30PM PST / 8:30PM EST
RSVP NOW
ABOUT THE STORY
Robot, a friendly disease-control drone created by the CDC, has one purpose: to keep the humans of the St. Louis metropolitan area healthy. When the CDC is suddenly defunded, it must turn to unlikely allies to complete its mission.
ABOUT THE AUTHOR
Annalee Newitz writes science fiction and nonfiction. They are the author of the book Four Lost Cities: A Secret History of the Urban Age, and the novels The Future of Another Timeline, and Autonomous, which won the Lambda Literary Award. As a science journalist, they are a contributing opinion writer for the New York Times, and have a monthly column in New Scientist. They have published in The Washington Post, Slate, Popular Science, Ars Technica, The New Yorker, and The Atlantic, among others. They are also the co-host of the Hugo Award-winning podcast Our Opinions Are Correct. Previously, they were the founder of io9, and served as the editor-in-chief of Gizmodo.
CHARITY SUPPORT
All proceeds donated to Borderlands Books.