Welcome to Short Story Club
It's like a book club, but for short stories! RSVP below, read a short story, join a live discussion with the author on Zoom.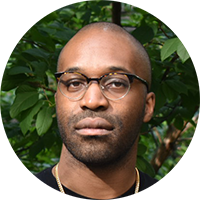 Live Q&A with Tochi Onyebuchi On The Hurt Pattern
August 25 at 5:30PM PST / 8:30PM EST
RSVP NOW
ABOUT THE STORY
"The Hurt Pattern" follows Kenny, a young professional working for a high tech surveillance company. He discovers a conspiracy involving algorithmic police and big banks. This story appears in the anthology "Made to Order: Robots and Revolution." You'll receive a copy of the story when you purchase a ticket.
ABOUT THE AUTHOR
Tochi Onyebuchi is the author of the young adult novel Beasts Made of Night, which won the Ilube Nommo Award for Best Speculative Fiction Novel by an African, its sequel, Crown of Thunder, and War Girls, a Locus and Nommo Award Finalist. He holds degrees from Yale, the Tisch School of the Arts, Sciences Po, and Columbia Law School. His fiction has appeared in Panverse Three, Asimov's Science Fiction, Obsidian, Omenana Magazine, Black Enough: Stories of Being Young & Black in America, and elsewhere. His non-fiction has appeared in Tor.com, Nowhere Magazine, the Oxford University Press blog, and the Harvard Journal of African American Public Policy, among other places. Riot Baby is his adult fiction debut. You can find him online at tochionyebuchi.com and on Twitter @TochiTrueStory.
CHARITY SUPPORT
Proceeds will be used to make donations to a cause. In the past, we have donated to local bookstores and PPE for Covid-19 healthcare workers. We're currently evaluating social justice organizations for our next set of donations.